About Us


"A Dream Trip 4 U" was started in 2005 after its owner, Helga Leonard decided it was time to stop working for others and created an agency that would be able to operate in a way that her clients would get the best of everything she could offer them. She now is able to work the hours that her clients are available with the premise that nothing beats personalized service, experience, and attention to detail.

While many Internet sites promise special deals, travelers are often unaware of restrictions, exceptions, and fine print. Making the right choices based on price alone is not always the best course of action for travelers. We hear too many stories of travelers regretting that they didn't call us first.
Helga recognized the need for experienced agents in the Internet age. While many agents succumb to the pressure of bargain Internet sites, Helga recognized the niche for knowledgeable experienced travel professionals. She knew that travelers would appreciate the values of a full-service travel agency that could turn their dreams of travel into reality. Many travelers learned that they actually saved money by seeking the help of an experienced travel professional. Helga wanted to highlight all of this and decided to call her agency, "A Dream Trip 4 U".
Helga has spent nearly two decades in the industry. She has worked for several other travel agencies, learning how to work with the cruise lines, hotels and tour operators. She continues her learning experience with both vendors and technolgy since the world is an ever-changing place and procedures are constantly evolving. She knew she could best serve travelers by creating an agency on her own terms. She was determined to prove that her agency could provide better service and value than any other means of travel planning. She was right. A Deeam Trip 4 U has been recognied by suppliers as a great agency to do business with and has awarded accolades to Helga including "Agent of the Month" by Royal Caribbean Cruise Lines. Magazines and newspapers have profiled A Dream Trip 4 U as the smart choice for demanding travelers. Helga is proud to be recognized as an industry leader.
=======================================================================
Testimonials
Here's what our clients have to say: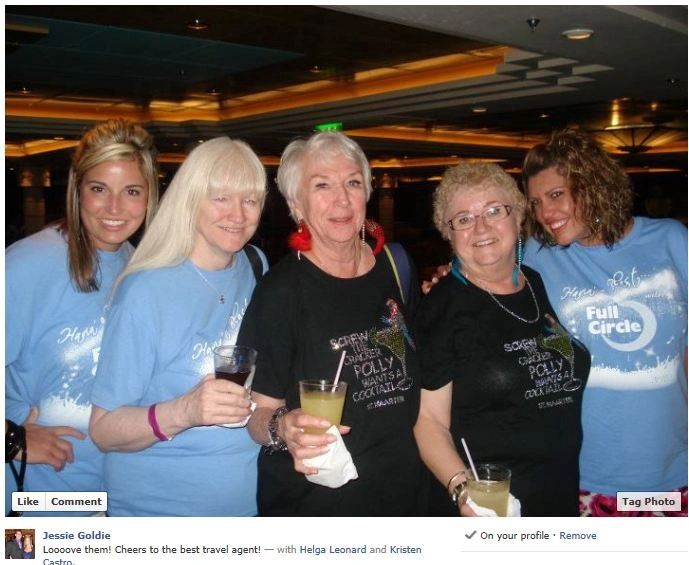 It would be difficult to chose one favorite experience; however, we particularly enjoyed being with a fun loving group of people with a similar heritage and interests. This being our first trip to Poland, we appreciated the full schedule of tours, events and options that were available. There were some tours and events we liked more then others; but happy we experienced them all. The music provided by our own musicians was superb and loads of fun. We liked our authentic Polish tour guide, Jasek, who not only provided a historical perspective; but, gave us some personal information about the country. Bus drivers were hardworking, courteous and accommodative. We felt safe with them at the wheel. Hotel accommodations were excellent; but especially enjoyed the view room in Zakopane. Finally, Mitch, Lenny and Helga were perfect hosts who were patient and seemed to cater to our every whim. This was a excellent agenda for our first time trip to Poland, with many extras that we appreciated. - Frank & Judy K - CA


Thanks for all your hard work and energy that you invested into the trip. It really was worth it for me. The pictures were great, thanks for sharing. I really enjoyed myself, wonderful experience and made lots of new friends. Thanks again for all your hard work. - Joanne W. - CT


Hi Helga, It's hard to believe we have been home for a week already. It took awhile to get our internal clocks back in order. Not sure if you are back from Germany yet, hope you had a great time. Your Dream Trip 4 U turned out to be just that. It was our trip of a life time. We want to THANK YOU for making it possible. We had an absolutely fabulous time. You took care of every detail, catered to everyones needs and answered everyone of our silly questions. It was a real pleasure meeting you and spending time with you on the trip. We had a lot of fun. This trip far exceeded any expectations we may have had. THANK YOU!!!!!!!!!!!!!!!!!!!!!!!! - Love Tony and Maryellen K. - CT


Just wanted you to know, we had a wonderful Mothers Day with our cruise tablemates. They live about 20 minutes from us. We went out to dinner and really enjoyed their company. Thank you again for seating them with us. - Janet & Jerry - FL

..... The hotels ranged from excellent to good and we were happy with all of them. We loved the Westin Grand Berlin, contrary to my earlier reservations. Lovely, quiet rooms, great breakfast, etc. I liked the fact that the trip varied from really high end hotels to more moderate but very pleasant hotels. ..... We had perfect weather, the German people as you know are very helpful and friendly, the roads are terrific, the cities interesting, the costs seem very reasonable, etc. By the end of the trip, we were ready to move to Munich if we spoke German. We are raving to friends about what a great place Germany is to visit and if any of our friends take our advice, I will direct them to you. As I said, I think our itinerary is almost a perfect template for a 12 or 14 day trip to Germany. ..... Again, thanks for all your help. It has been a pleasure working with you. - Charles & Linda - PA
I will never try planning a vacation without A Dream Trip 4 U. They alerted me to details I would never have planned for. I felt totally confident that everything would go as planned. Thanks to A Dream Trip 4 U, it did!
- Pat M.