Awesome Polka Cruise Video
This is the 2016 video. The one for 2017 is being developed
and will be posted shortly


Here is the audio ad for our 2017 Polka Dreams @ Sea Cruise



==========


SUMMARY


Cruise Dates - Apr 2-9, 2017


Ports - Grand Turk, Freeport, & Half Moon Cay®


Bands for 2017 will be:

"The Buffalo Concertina All-Stars" (NY),
Special Guest Start -
"Ray Jay" of "Ray Jay & The Carousels" (PA)
and our own special
"Polka Dreams All-Star Band"
(See the amazing lineup below)
(The remaining all-star band lineup
will be released shortly)

We are leaving from Baltimore to give those who don't want to fly a chance to join us on our amazing polka cruise.
The ship is the Carnival Pride which just underwent a major multi-million dollar renovations bringing aboard many new innovative experiences.

There will be a dance in the Baltimore area the night before the cruise to do a little mingling ahead of time. The dance will be open to anyone that wants to come, even if they are not going on the cruise. Cruisers will receive a discount.

There will be buses from the Pittsburgh, PA & Buffalo, NY areas if there are enough people.
Other pickup points as needed.

Information below has been updated except for the video file of our current cruise. It is still the info for the 2016 cruise. All other info is up to date. That file should be updated shortly.


Join us in Buffalo on June 12th, 2016 for a FREE dance to promote our awesome cruise. DONE. This was an amazing event - if you weren't there, you really missed out on a fun time



==========

Please see the press release on the Home Page.
Full Details below.

Join our "Polka Dreams @ Sea" Polka Cruise page on Facebook to meet up with others going with us.







==========

POLKA DREAMS @ SEA 3
POLKA CRUISE







Apr 2 – 9, 2017




Polka Cruise Presentation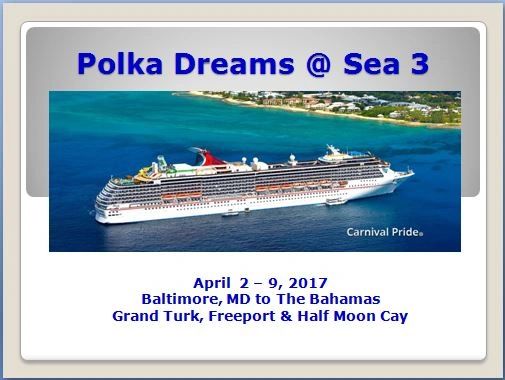 Click here or on the above picture for a presentation of our Cruise info




Testimonial of Fun




Ship of Panamanian Registry


Livin' YOUR DREAM with PRIDE in 2017!
Announcing the NEW
"Polka Dreams @ Sea 3" Cruise
7-Days in the Bahamas
Apr 2 – 9, 2017
from Baltimore, MD to
Grand Turk, Freeport,
& Half Moon Cay
(All islands are in the Bahamas. Grand Turk's area around the ship dock complex is owned by Carnival; and Half Moon Cay® is a Private Island owned by Holland America Line which is owned by Carnival Corporation)
NEW FUN exciting cruise ports!!!
Aboard the Enchanting Carnival Pride®
Our AWESOME Band Lineup: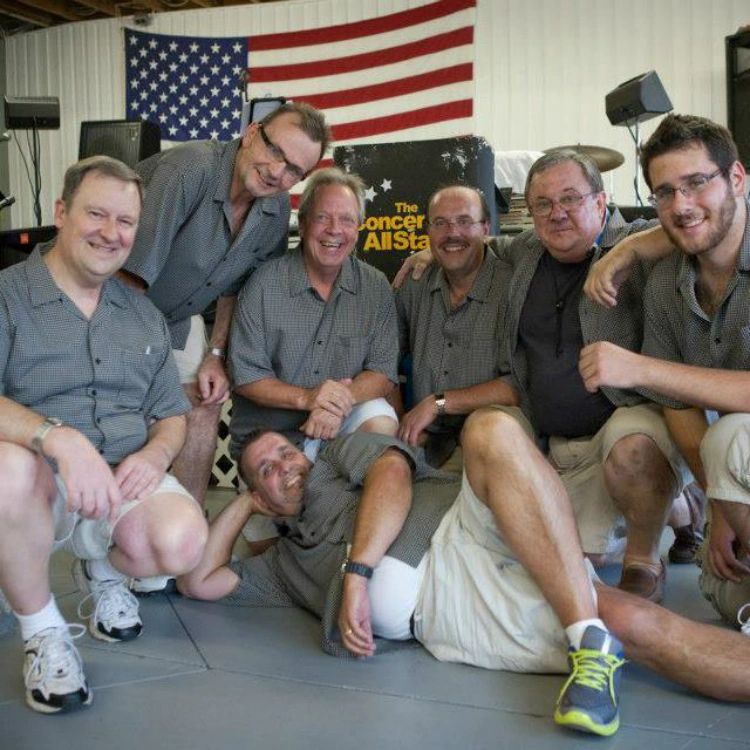 Buffalo Concertina All-Stars


&



Special guest star -
ray jay
of
Ray Jay & The Carousels

& the

Starring
*Jimmy Weber (The Sounds, Full Circle, TBC)
*Mike Matousek (The Boys, Charm City Sound,
The Brass Works)
**Jeff Mleczko (DynaBrass, TPM)
Dave Morris (The Boys, The Nu-Tones, The Sounds)
Rich Zebrowski (Chicago Push, The Nu-Tones, The Sounds, TBC)
? ( )
? ( )

Featuring

Stacey Morris
USPA Female Vocalist of the Year -
1988 & 1989 & 1990 & 2010 & 2012 & 2013
and again for 2014
&
*Mike Matousek - *IPA Polka Hall of Famer
&
*Jimmy Weber - *IPA Polka Hall of Famer

**Jeff Mleczko has requested to be part of the Polka Dreams All-Star Band and will be on the cruise if he is able to do so.
He is making great progress. Please keep him in your prayers.



Polka Jam Session – where YOU are the
star so bring your instruments if you like

Themes include:

Hawaiian Night

Red & White Night / Pre-Dyngus Day

Ladies Night Out!

and more!
Theme suggestions welcome.
Fun & Games with our "Polka DJ@Sea"

Kenny Olowin
Win lots of prizes




Early Bird Rates Extended to Jul 29th !!!
Prices start at $991*
per person, double occupancy
(all taxes & fees & onboard polka parties included)
Category - Cabin Type

Fare After
Jun Jul 29

Fare thru
Jun Jul 29 *

4C – Inside
Sold Out

1011.00



986.00



4D – Inside

1016.00

991.00

4E – Inside

1021.00

996.00

4K – Inside

1031.00

1006.00

8B – Balcony

1196.00

1171.00

8C – Balcony

1211.00

1186.00

8D – Balcony

1221.00

1196.00

8E – Balcony

1231.00

1206.00

8F – Balcony

1241.00

1216.00

8J – Balcony


1261.00


1236.00



8K - Balcony





1271.00



1246.00

These rates apply to 1st & 2nd person in the cabin.
*Discount If you book by Jun Jul 29th. Those who have been
along with Polka Dreams @ Sea & Full Circle on a previous cruise
- you will receive the discount prices thru Sep 30th*
Discounts are also available for 3rd & 4th person in cabin.
Other cabin categories are available. Ask for pricing.
Prices include cost of cruise, government taxes
& fees, meals in the main dining room and
buffet, and all Polka Parties onboard.

YES - there are DRINK PACKAGES available!
Ask for details when you call.
Click here to see a description of the package.
You can also order bottles of alcohol, water and more for your cabin. Click here for more information. There is also a soda & juice package. Click here for more info.
I can order these for you or you can order them online.

All bands, itineraries and prices are subject to change without notice. Certain restrictions apply.

*Fare applies to a minimum lead-in category on a space-available basis at time of booking. Fares are per person, non-air, cruise-only, based on double occupancy and apply to the first two passengers in a stateroom. These fares do not apply to singles or third/fourth-berth passengers. Call the above agency for more details. Government fees and taxes are additional and subject to change. Carnival reserves the right to impose a Fuel Supplement per person per day on ALL passengers if the West Texas Intermediate Fuel exceeds $65 per barrel, even if the fare has already been paid in full. This offer is capacity controlled and may not be combinable with any other public, group or past passenger discount, including shipboard credits. Offer is not transferable and is available to residents of the 50 United States, Canada, Puerto Rico, Mexico and the District of Columbia who are 21 years of age or older and receive this offer. Fares quoted in U.S. dollars.
See the applicable Carnival Cruise Lines brochure or carnival.com for terms, conditions and definitions
that apply to all bookings.
Ships registry - Panama


2017 ITNERARY


Baltimore to the Bahamas



Day
Port of Call
Arrive
Depart

Sun, Apr 2
Baltimore, MD
4:30pm
Mon, Apr 3
At Sea
Tue, Apr 4
At Sea
Wed, Apr 5
Grand Turk
8:00am
2:30pm
Docked
Thu, Apr 6
Half Moon

Cay®

9:00am
5:00pm
Tendered
Fri, Apr 7
Freeport

7:00am
1:30pm

Docked
Sat, Apr 8
At Sea
Sun, Apr 9
Baltimore, MD
9:00am



Click Here to see more information on the Carnival Pride

Click Here to see our polka cruise flyer

Click Here to see the additional 9-page brochure for our Polka Cruise
(This is still being developed and will be posted shortly)

Click here to request a full brochure by email - if you can't
download it above (Includes flyer and 9 page brochure)

Click Here for a full Carnival Cruises brochure
This will open a PDF
The deck plan for the Carnival Pride is on page 45 of 57
Use the plus sign (+) to make it larger to read cabin numbers

Click Here to go directly to the Deck Plans for the Carnival Pride


Additional Items - Gratuities, airfare, hotel, transfers, excursions, spa treatments, insurance and other non-cruise arrangements are separate and can be arranged by
"A Dream Trip 4 U"


Pre-cruise and/or post cruise polka events are still being arranged - More info soon


Contact Helga Leonard, A Dream Trip 4 U
(724) 234-2033 helga@adreamtrip4u.com
Bookings MUST be made with "A Dream Trip 4 U" to be part
of our group and attend ALL polka activities
For more info, go to www.adreamtrip4u.com or
www.polka-cruise.com
or www.facebook.com/adreamtrip4u





Click Here to see some of our 2016 Polka Dreams @ Sea Cruise pictures

Click Here to see some of our 2015 Polka Dreams @ Sea Cruise pictures

Click here to see some of our 2014 Full Circle Polka Cruise pictures

Click here to see some of our 2014 Full Circle Polka Cruise Videos

Click Here to see some of our 2013 Full Circle Polka Cruise Videos

Click Here to see some of our 2012 Full Circle Polka Cruise Videos



Pennsylvania Hills - 2014 Cruise


How's The World Treating You - 2012 Cruise


How's The World Treating You - 2011 Cruise


I Walk The Line - 2009 Cruise